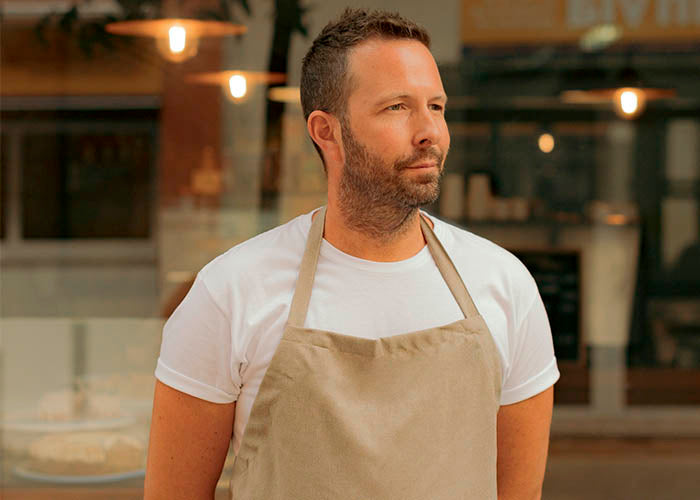 HAYDEN COLLEDGE
We have known @thecakemanbakery for many years, we still remember his first cakes of which we have been FANS since day one.
Hayden Colledge, 42 years old, I was born in Melbourne where I lived until I was 21, always influenced by English culture, (my father and grandparents are English) where I then went to live for 9 years in Brighton, hence the influence on my pastry. I have been living in Barcelona for 12 years and with The Cake Man for 6, until 2019 when I opened my own store in Poblenou.
WHAT DID IT TAKE YOU TO MAKE CAKES?
My mother always made cakes, she made them very good, I learned with her and when I was 15 I made cakes by myself for the church, I really liked making them, it was something very common at home. My grandmother made the best Pavlova in the world 😊 and I learned from them. When I arrived in Barcelona I started working as a manager in a restaurant where the owners were English and had all the English influence. I offered to make the cakes for the desserts and they accepted as a test. The first cakes I made were a carrot cake and a banana cake and they were a huge success. Later at barbecues with friends I started to try and experiment with new cakes and a very good friend gave me an Ottolenghi recipe book that marked my career as a pastry chef. From that moment I knew that I wanted to dedicate myself to pastry, I spent 6 months at Federal Café in Madrid and upon returning to Barcelona I set up The Cake Man, making cakes for more than 30 restaurants.
EVEN THOUGH YOU HAVE BEEN MAKING CAKES PROFESSIONALLY FOR YEARS, YOU HAVE RECENTLY OPENED YOUR OWN STORE, RIGHT? TELL US ABOUT THE EXPERIENCE.
Opening my store was quite an experience, I learned how to do things and how not to do them. Setting up your own business from scratch and setting up a store from scratch is very complicated. You have to be very patient and always be aware of everything. I opened at the end of November 2019 but the procedures began a year and a half before. You live many moments of helplessness. But despite all the work and inconvenience, it is always worth it.
WHAT DO YOU LIKE TO OFFER YOUR CUSTOMERS?
I like to offer a lot of variety, so that they can choose between different products (I like to complicate life). Offer several options, gluten-free, lactose-free, vegan…. Different and interesting flavors and combinations. All my products are fresh, all freshly made with bio and organic ingredients. Nothing frozen or processed, no colorings, no preservatives. I offer a very typical Australian service, friendly and welcoming, making my clients feel comfortable and at home.
WHAT IS YOUR SPECIALTY?
I think they are vegan cakes, gluten-free or lactose-free since it is totally imperceptible, they can pass for conventional cakes. Like the vegan chocolate cake with pistachio and rose petals, the lemon, thyme and almond cake (gluten-free) or the cherry, almond and amaretto cake (vegan). Cheesecake is another of our specialties, we came out as one of the 5 best cheesecakes in Barcelona in Time Out magazine. As typical of my country, this year I decided to make Lamington (typical Australian pastry) for the first time for a good cause, the Australian natural disaster with the fires. So I decided to donate €1 for every cupcake I sold to help extinguish the fire and we were able to donate almost €300.
HOW DO YOU TAKE CARE OF YOUR SKIN? WHAT IS YOUR ROUTINE?
I always get up very early, I'm up around 6:30. I wash my face with cold water to wake up and apply the super cute cream before leaving the house. Every night, after I shower and before going to bed, I put the body oil all over my body. I have psoriasis and the revitalizing oil is the only product that calms it. My skin suffers from the products I use to cleanse, plus my hands are in water all day. The oil helps me a lot, I can't wait to get home and put it on after my shower. Besides, I love the smell since it is very neutral, it smells of earth, grass, and natural elements. I love it!
WHAT DOES MAMITA CONTRIBUTE TO YOUR SKIN?
It helps me a lot with psoriasis, it keeps my skin hydrated all day.
APART FROM MAKING CAKES, WE KNOW THAT YOU HAVE STARTED IN A RADIO PROJECT. CAN YOU EXPLAIN HOW IT CAME UP?
An English friend who lives in Sitges is part of a group that started a radio station during the quarantine @quarantinifm and asked me to do a show for Gay Pride, based on music, memories, enjoyment and having a good time. They liked it so much that they asked me to do one every Friday. I love doing it because I have always had an interest in the radio, I am passionate about music, one of my playlists always plays in the store and this was a great opportunity to express myself and release the tension of the week and add interests to my daily life.
FINALLY, WHAT WOULD YOU RECOMMEND THAT YOU ARE WATCHING, LISTENING TO OR HAVE BEEN VISITING LATELY?
I'm watching The Boys, which is about superheroes and I love it. I like Fleabag a lot. I always like to discover new places to eat, the last one I went to was @gigivontapas, different, interesting, Spanish tapas with a twist.
THANK YOU VERY MUCH HAYDEN!