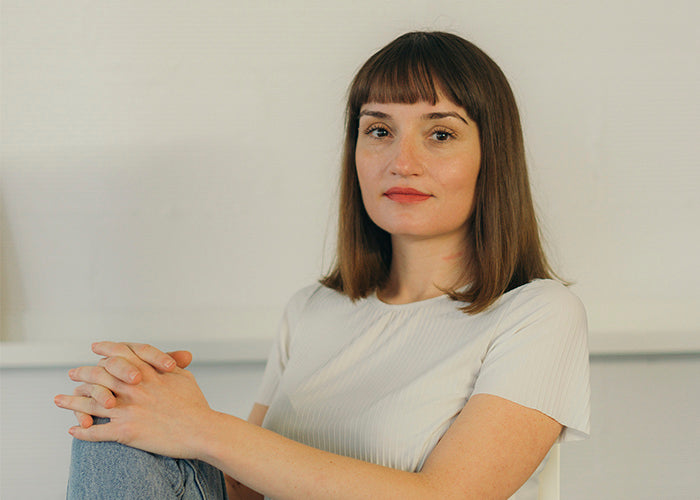 VERONICA STRONG
We have known @veronicafuerte for years since I had the opportunity to work in her studio @heystudio 😊. Vero uses Mamita in her daily ritual and that is why we wanted to do this little interview with her that we will publish in parts, we hope you like it!
Hello, I'm Vero, a graphic designer and I founded a studio called @heystudio almost 13 years ago. I am 40 years old and have a 9-year-old daughter named Nora.⠀
How is your day?
Now my day to day life has changed a little due to confinement. I get up around 8 a.m. and at 8:30 a.m. I do a guided meditation session with my yoga teacher live on IG and then I have breakfast with my daughter. I work until 6 p.m. and of course, I eat at home too. In the afternoon after eating I try to do yoga almost every day since I have a back problem.
Do you travel a lot for work? How do you deal with everyday stress?

If I travel, not for the clients since we can solve everything remotely. I travel because I give lectures at design festivals and I try to accept those that I can reconcile with my family life. The stress is there and there are months when it is more accentuated than others, the important thing is to "charge" the energies with small gestures. Reading, friends, the sea, physical activity... all together with therapy sessions once a week.⠀
How do you combine your profession with your family life?

I have been separated for 3 years and I have a 9-year-old daughter. Before my daughter was born, I was already quite disciplined in my schedule, although I had no pressure to arrive home at a certain time, everything was more relaxed. Since I became a mother, you are governed by schedules and you have to manage your time well and therefore be more decisive.
What is your beauty routine?
I remember that when I was 13 my mother told me you have to clean your face at night and it's something I've done since then. In the morning I cleanse it with a toner then serum and day cream. At night I cleanse it thoroughly combining cleansing oil with mommy's powder. Then I use toner, serum, night cream and eye contour cream. Once a week I apply a mask. And when I can I do a facial cleansing. I also use total protective factor cream every day.
What does Mamita contribute to your beauty routine?
Before using Mamita I did not use natural cosmetics, perfumery creams that I changed. When using mamita I noticed that my skin was alive and reacted to the change. I also think that using natural cosmetics makes the skin appreciate it. I have also known Eli for a long time and I like to support the ideas of local business friends. I know the work behind it and the transparency in the project.
Thanks Vero!