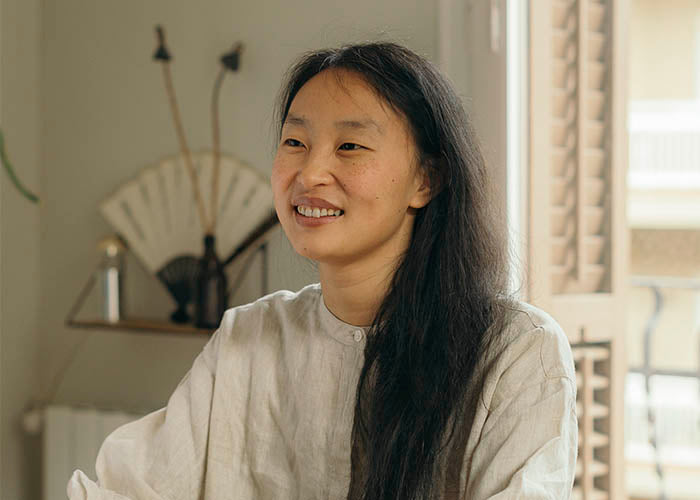 JENNY CHIH-CHIEH
We met Jenny with her project @mellowsheng participating together in the @all_those market and from the first moment we fell in love ♥️ thanks to her sweetness as a person and her incredible products.
Jenny uses Mamita in her daily care ritual and that is why we wanted to do a short interview with her, we hope you like it!
I'm Jenny, I'm 35 years old. I am a former designer and founder of Mellow Sheng – a food and culture platform founded with an emphasis on natural food-making processes, oriental tea culture and Chinese calligraphy. A project dedicated to promoting living culture.
How is your day?
I start the day with some yoga stretches, continue by making tea and a simple breakfast, and then take a shower. The time drinking my teas is what I value most in the morning, it helps me start the day well.
During the day, sometimes I am working at home with my plants very quietly, but other times I am shopping up and down the city or cooking for an event. So my activity and routine can go from a very zen time to a very busy time.
I usually drink another tea or infusion during the afternoon and try to practice Chinese calligraphy with some regularity.
And at night, we usually prepare dinner at home with my husband, and we watch a series together.
Before going to sleep, I brush my teeth and clean my face.
Do you notice that your diet influences your skin? If so, could you give us some tips to help you?
I believe that your skin gives you signals about your overall health, which is directly related to what you eat; It's all together. Also, since I don't wear makeup, I really notice the difference in my skin when I eat and sleep well and vice versa.
A balanced diet is very important, and I think not being picky about anything I eat has also helped me.
Are there any Taiwan beauty customs that you apply? What do you miss about your country?
When I was a teenager I had a lot of beauty products, but over time I have learned that less is more . The fewer products I apply to my skin, the happier I am.
What I miss about Taiwan are the hot springs… I really noticed the difference in my skin when we lived there and I was able to bathe in them regularly.
What does Mamita contribute to your beauty routine?
I like that it is simple and natural. And above all I love the people who are behind the brand, giving soul to the products which I think is wonderful.
THANK YOU VERY MUCH JENNY!