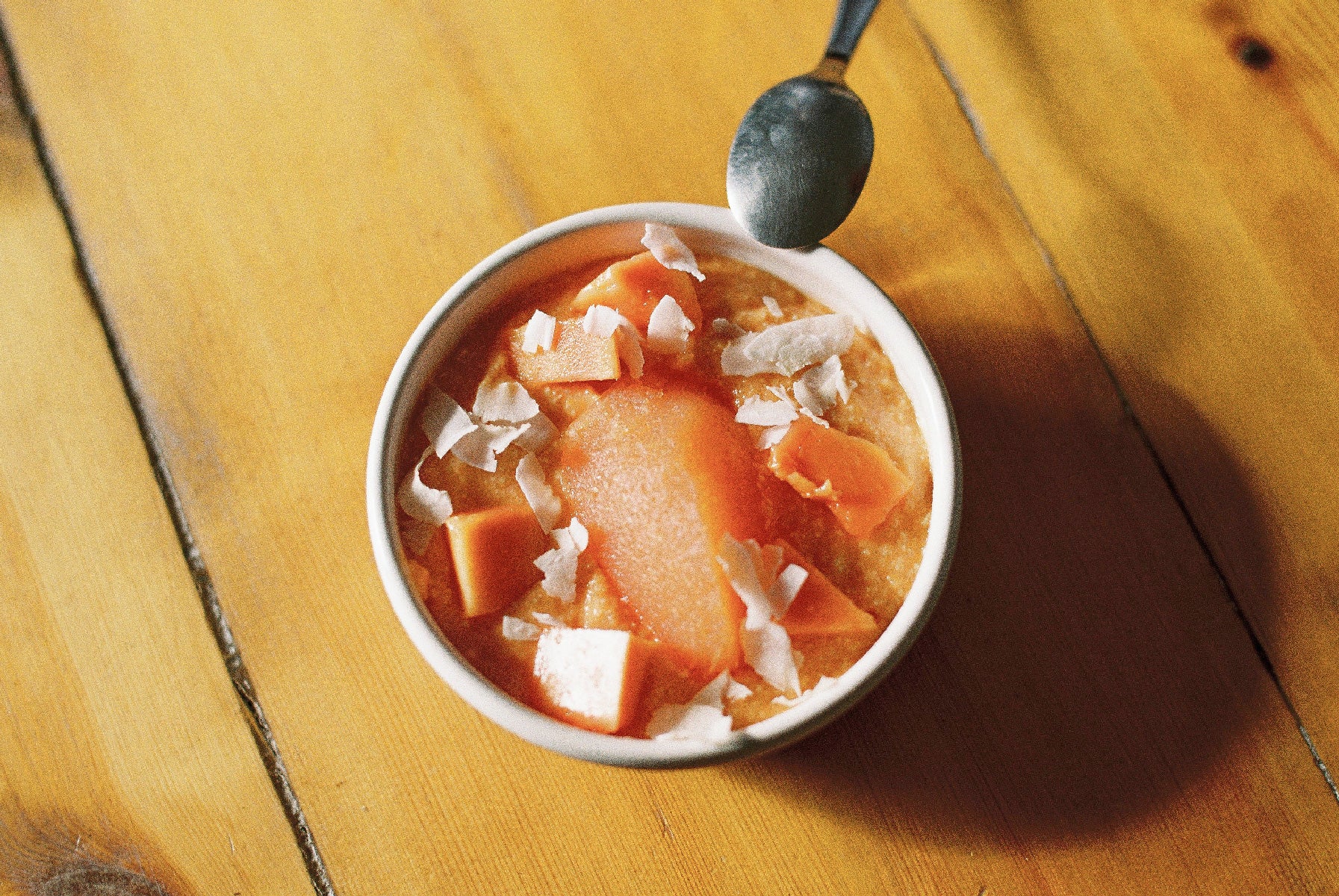 CASHEWS AND PAPAYA YOGURT
In this new recipe we will make a delicious cashew and papaya yogurt.
Papaya, in addition to being very vitamin-rich, is highly digestive since it contains papain.
It is rich in vitamin C and vitamin A in the form of carotenes. Vitamin C and carotenes constitute two of the main antioxidants that favor the elimination of free radicals generated by the body itself, as well as those that come from outside.
It is especially recommended in cases of gastritis, difficult digestion, constipation, gas and heavy meals.
On the other hand, cashews will benefit us when it comes to taking care of our skin from within thanks to their antioxidant content, such as vitamin E and essential fatty acids, proteins, minerals and vitamins.
Here we leave you this delicious recipe:
INGREDIENTS
500 g of peeled and seeded papaya

100 g raw cashews (previously soaked for 3 to 8 hours)

15 ml coconut oil

3 g agar-agar powder

80 ml water / orange juice or oat milk

coconut sheets to decorate
STEPS TO FOLLOW
Dissolve the agar-agar in the liquid (water / orange juice or oat milk) and put it on the fire

Stir and when it starts to boil, lower the heat and leave for about 3 minutes.

Remove from heat and let cool

Strain and wash the cashews and blend them together with a third of the papaya and coconut oil until a creamy consistency is obtained.

Decorate it with the rest of the papaya, a pinch of coconut sugar (optional) and the coconut slices.
We hope you enjoy it!
This recipe is from Marga Perlas, integrative nutritionist, if you want to contact her you can write to her at margaperlas31@gmail.com